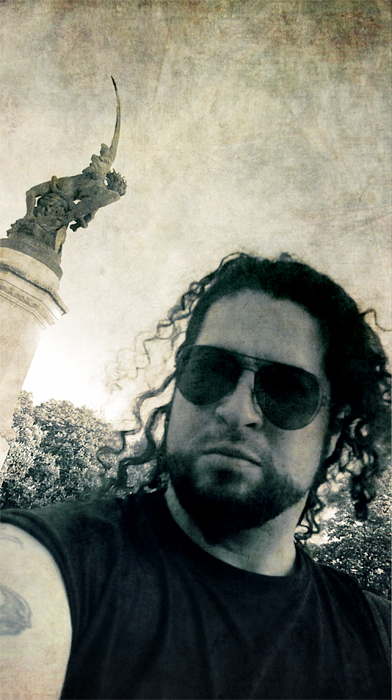 The fountain of the Fallen Angel or Monument of the Fallen Angel

It was made in 1877 by Ricardo Bellver by order of the duke Fernán Núñez and placed in the square that now receives its name: the Plaza del Ángel Caído in 1885.
What drove Duke Fernán Núñez to order the realization of this scandalous statue for its time, is also mystery. In the National Exhibition of 1878, this statue received the first prize. Should you want to go directly to the statue, it is situated at the Retiro through the entrance from the Alfonso XII street, next to the Public Work School (Escuela de Obras Públicas), near Claudio de Moyano street, popularly known as Cuesta Moyano (the one with the second hand books stands) and the Atocha train station.
The Church never protested for the existence of the statue in Madrid, since it does not praise the demon, but being a faithful representation of the Bible, said Manuel Bru, spokesman for the archbishopric of Madrid. However, the statue has already been reason for controversy in the past. Many people protested at its inauguration for its location in the heat of the Retiro park and even some priests exorcised the statue. Del Río said that in the 1940s and 1950s the sculpture was a rendezvous point for satanic rituals and he indicated that Franco's government studied the possibility of removing the statue from the park so that the police could avoid those rituals. After removing the equestrian statue of Francisco Franco from San Juan de la Cruz square in 2005 some people asked to take it away. Presently in Madrid, there are ore than 20 satanic sects although they no longer practice rituals around the statue.
Another curiosity is that the statue is to exactly at 666 meters above the level of the sea.
After examining this information it brings to us to think that this statue is at least a different from all statues, although nowadays it is much more easier to take down myths and to look up the cyberspace to find out that there are more images of angels fallen in the world and representations of Satan.

shackled




Anzahl der Beiträge

: 28


Anmeldedatum

: 2011-02-11


Ort

: WNY



In one way or another, fallen angels are a sort of inspiration... Great article

Kostas




Anzahl der Beiträge

: 60


Anmeldedatum

: 2011-02-11


Ort

: Athens - Greece



That´s becouse we are part of them :-)
---
Permissions in this forum:
You
cannot
reply to topics in this forum